This article was contributed by Linan Weng, Thermo Fisher Scientific, China
Since the first African swine fever (ASF) case was reported in China in August 2018, China has made significant upgrades to their pig industry, including implementing effective biosecurity measures and surveillance testing and progressively restructuring their industry.
Importance of pork production in China
Pork consumption in China is higher than anywhere else in the world, accounting for more than 50% of world pork consumption. In China, per capita consumption is about 39.5 kilograms. In order to meet domestic market demand, Chinese pork production has historically been the largest in the world with about 14 million sows in 2017.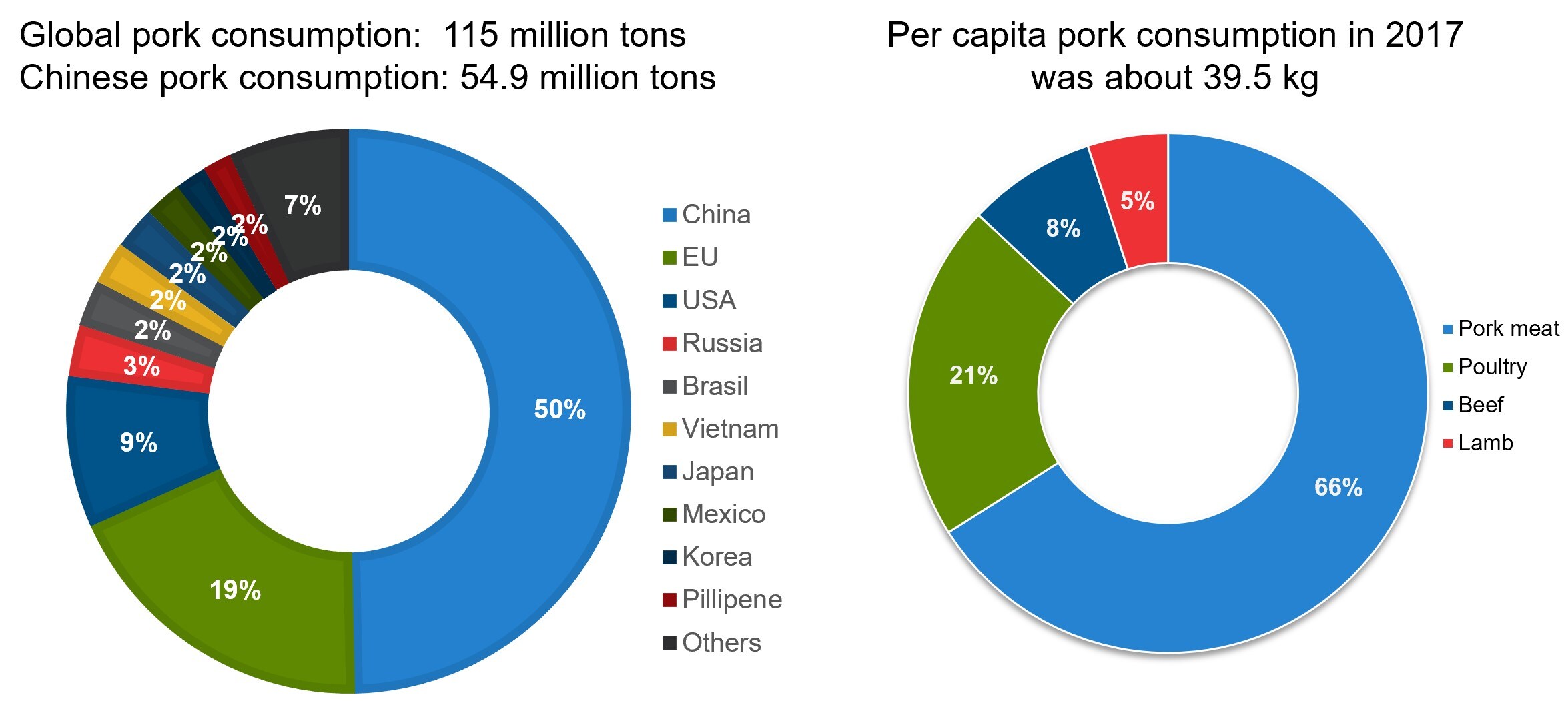 Data from sohu.com
African swine fever has led to a dramatic 70% decrease from peak pig inventory. The direct loss to the Chinese economy from domestic ASF cases is estimated at $140 billion USD ($1 trillion RMB), according to Dr. Defa Li, professor at Chinese Academy of Engineering, in late 2019.
In an effort to drive pig production up to meet current demand levels, China is employing several strategies to control the spread of ASF.
Implementing biosecurity measures
The rapid spread of ASF through the Chinese provinces has been attributed to weak biosecurity systems on Chinese pig farms. Historically, most pig farmers believed that biosecurity meant vaccination alone. However, during the ASF outbreak, they learned how to set up a more comprehensive farm biosecurity system.
The key factors to the rapid spread of ASF in China:
Swill feeding
Infected pigs
Contaminated pork products
Animal origin feed containing blood or blood components. However, there is debate in China over whether dry blood is really a risk
Vehicles for pig transportation
Feed materials
People's movement
Of note, the wild boar population has not been addressed as an important factor of the spread of ASF.
Transportation vehicles offer the highest risk to spread because they travel among many different farms and to slaughterhouses on a daily basis. There had not been strict disinfection SOPs in place, which also led to the rapid spread of the disease. Since the outbreak, many pig farms have purchased their own dedicated trucks to transport only their pigs. The trucks are now regularly cleaned, disinfected and tested.
There are two ASF control strategies:
Complete farm depopulation: pigs in the infected herd and surrounding farms were culled immediately
Spot elimination, also called "Pulling the Tooth": removing only infected animals
At this time the most common control strategy being applied on pig farms in China is called "Pulling the Tooth." This approach includes precision elimination versus the complete farm depopulation that was used at the beginning of the Chinese outbreak. Complete farm depopulation rapidly decreased pig inventory, and many farms panicked, pre-emptively selling their herds due to fear that they'd become affected with ASF. Since then, the government has adjusted the prevention and control policy for ASF.
Now, with "Pulling the Tooth," farms test all animal with qPCR. If infection is detected, only the animals from affected pens, units or barns are removed instead of the entire herd or barn. In some countries, the prevention and control of ASF is still complete farm depopulation, but in China this is not considered realistic due to the gap between the supply and demand of pork and meat products.
In a real-world customer example of "Pulling the Tooth," all animals were tested, and ASF-positive animals were identified. Due to the infection risk, this farm decided to also remove the closest five animals to the infected animal from each of the four pen directions: front, back, left and right.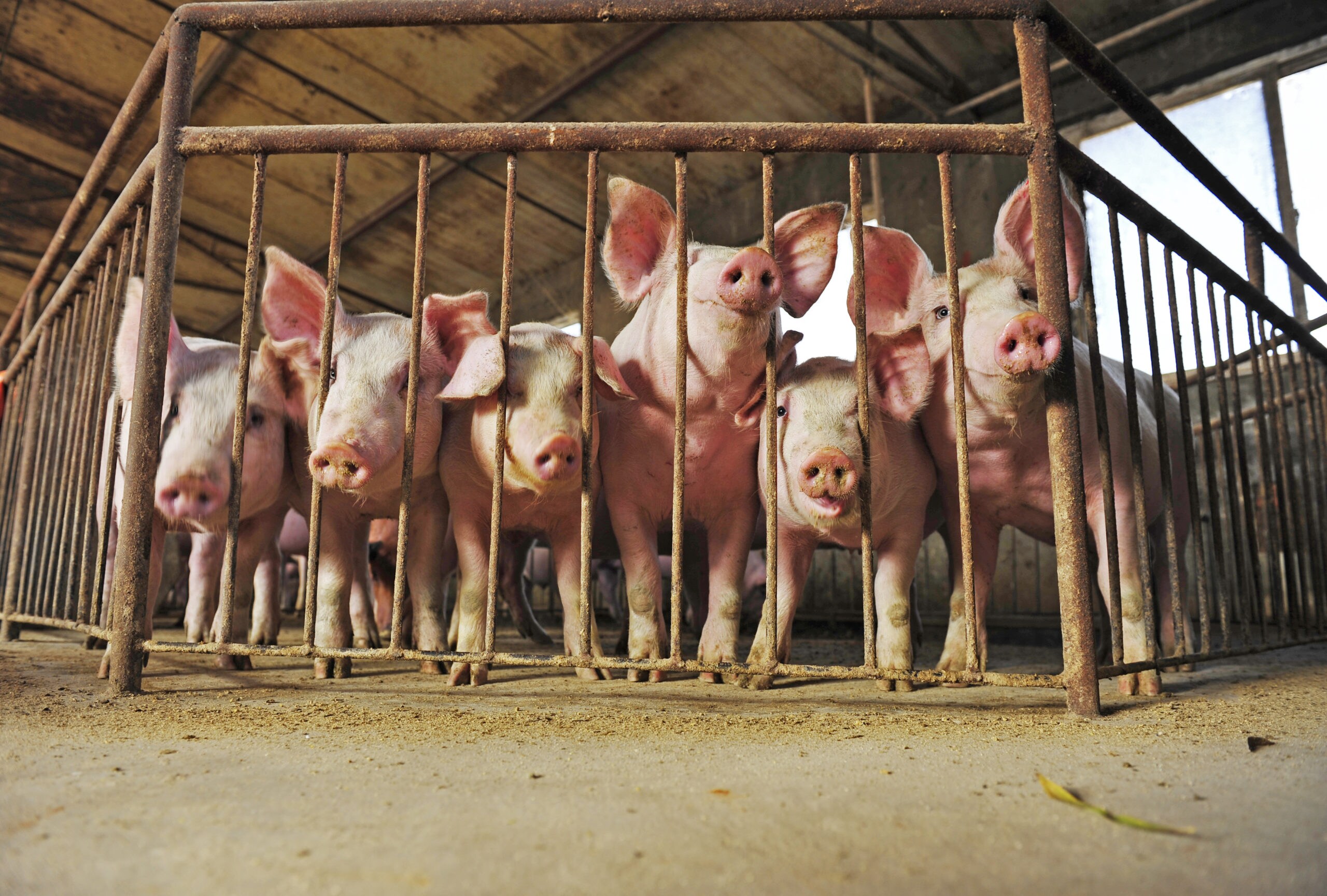 In another customer example, after all ASF-positive animals were removed, all spaces and surfaces were disinfected with 5% sodium hydroxide and dried off. The next step was to burn all areas with a flame gun. After the burning, swab samples were taken from all areas and surfaces and tested using qPCR. Only when environment samples tested negative did the team begin to clean the barn. After a period of time, the farm again sampled the environment and tested, and when samples were negative, the animals were introduced back into the area.
Additional biosecurity measures are now taken, including:
SOPs have been established for depopulation and for day-to-day farm management
When removing the animals, carpets or plastic were put down on the barn passageway to limit spread of the virus. This was deemed very effective
All clothes and boots used in contaminated areas were burned in the same area without bringing them into other barns or other production areas
In general production areas, all boots and clothes are cooked and disinfected on a regular basis. Clothes and boots are no longer allowed to cross into different barns; one barn, one set of clothes and boots
Some farms have been successful at repopulating their herds, and some have struggled with their efforts. However, stepping up biosecurity is seen as necessary and highly effective at preventing and controlling ASF.
PCR testing is critical to control African Swine Fever
Testing and ongoing surveillance is essential for the control of ASF. Chinese data shows that oral swab testing can detect the ASF virus earlier than blood testing. For example, in a study published by a Chinese university,1 pigs were artificially inoculated with ASF and removed from their negative herd and then put in contact with naïveanimals. The oral swab detected infection three days earlier than blood samples. Therefore, oral and nasal swab samples are the most common samples for screening for ASF in China rather than blood or tissue samples.

Commonly used for porcine reproductive and respiratory syndrome (PRRS) testing, an oral swab sample is less stressful to the animal, provides fewer contaminated samples, causes less virus spread and is easier to use than other test samples.
Farms take environmental samples for PCR testing from many areas to identify and measure their ongoing ASF risk. Before repopulating, farms must take many environmental samples and confirm the environment is clear of ASF before they can introduce new animals to the farm.
In general, all qPCR tests should have an internal control. China is currently using two types of controls. One is the exogenous positive control; another is a host control. For the environmental sample, using the host control does not provide useful criteria to interpret the results.
Vaccination development in China
China is investing heavily to develop an ASF virus vaccine. The launch of a new gene-deleted vaccine is expected to motivate farmers to restock and repopulate. The government is coordinating with many research institutions to support the R&D of a vaccine. The vaccine launch is expected soon, maybe even in 2020.
A new research article2 published in Cell Research (November 2019) by a team at Chinese Tsinghua University – Peking University Joint Center for Life Science in Beijing — discusses the implications for virus assembly. The virus' structural details build the basis of capsid stability and assembly, opening up new avenues for vaccine development.
Swine industry restructuring
ASF has pushed the industry to restructure in China. From the country level, ASF has changed the planning process for pig production. Regionally, zones will be created with contaminated and clear areas. At the farm level, ASF has helped pig farmers rethink industrial barn and operation layout as well as production facilities to meet biosecurity standards. Moving forward, the industry is paying greater attention to management and biosecurity, and this will lead to more skilled workers and scaled commercial farms rather than backyard farms.
African swine fever has taught Chinese producers a big lesson. First, a vaccine is not equal to biosecurity. Tight biosecurity can be much more effective than vaccination. Due to biosecurity improvements, several diseases were better controlled in 2019. Disease has been big challenge for farms in the past. With better biosecurity, less vaccination must be applied and the eradication of some important diseases like classical swine fever and foot-and-mouth-disease are possible in the future.
Swine industry outlook
Recently, pork prices have begun to recover and continue to rise, providing incentive for producers to restock. The Chinese government is offering subsidies to encourage pig farmers to expand their production, and some farms have been able to restock successfully. Many farms are producing well even though ASF is circulating in the country.
ASF has positively impacted the price of beef and lamb, and China is encouraging the production of alternative protein sources, like poultry and dairy.
The involvement of research institutes outside veterinary medicine and agriculture is expected to accelerate ASF research and development of a vaccine program.
Key learnings
Some lessons learned from the ASF outbreak:
China's livestock industry paid a big price with ASF. However, the virus forced the industry to take a close look at its management practices, and it has ultimately improved the industry
People are the key to successfully handling an outbreak. Chinese pig farmers and their staff have embraced the ASF training and implementation of biosecurity and diagnostic testing
Strict biosecurity is the most cost-effective on-farm management measure to control the virus
Time is the best disinfectant for the ASF virus
References
1. Dongming, Z., et al. (2019) "Replication and virulence in pigs of the first African swine fever virus isolated in China," Emerg Microbes Infect., 8(1), pp. 438–447.
2. Liu, Q., Ma, B., Qian, N., et al. (2019) "Structure of the African swine fever virus major capsid protein p72," Cell Res, 29, pp. 953–955. doi:10.1038/s41422-019-0232-x
For veterinary use only. For in vitro use only. Regulatory requirements vary by country; products may not be available in your geographic area.