Unfortunately, over the past year, there have been several stories of people finding sewing needles or pins in the strawberries. This kind of adulteration news can incite hoaxes and a social media frenzy, possibly causing shoppers to stop buying the berries and growers to discard fruit and lose money.
As a result, strawberry processors are increasingly installing food metal detectors on their production lines, in their packing sheds and elsewhere in the supply chain.
There are over 600 strawberry varieties grown in the United States. There are also various grades of strawberries. The United States Department of Agriculture (USDA) describes the 3 major grades:
U.S. No. 1 consists of strawberries of one variety or similar varietal characteristics with the cap (calyx) attached, which are firm, not overripe or undeveloped, and which are free from mold or decay and free from damage caused by dirt, moisture, foreign matter, disease, insects, or mechanical or other means. Each strawberry has not less than three-fourths of its surface showing a pink or red color….
U.S. Combination consists of a combination of U.S. No. 1 and U.S. No. 2 strawberries, except for size: Provided, that at least 80 percent, by count, of the strawberries meet the requirements of U.S. No. 1 grade.
U.S. No. 2 consists of strawberries which are free from decay and free from serious damage caused by dirt, disease, insects, mechanical or other means. Each strawberry has not less than one-half of its surface showing a pink or red color.
Within these three grades, there are size, tolerance, and defect considerations. If you read the description of the grades, the USDA notes that there must be no foreign matter in the strawberries. What kind of foreign objects or physical contaminants in food could there be?
Well, strawberries are grown in fields, on farms. Sometimes rocks, metals and glass particles buried in the dirt are harvested along with the berries themselves and inadvertently enter into the production process. Also, occasionally, pieces of equipment like mesh screens, nuts or bolts fall into the fruit piles as they are being sorted, cleaned, and packaged. And if the berries are being added to other products (like jams or bakery goods), there are more areas in the plant where potential contaminants may be introduced.
Some of the strawberry scares were caused by people sabotaging supermarkets and farms, but it is incumbent upon food processors in this situation to analyze the entire process flow to determine where these materials could be coming from and where inspection may be needed. The biggest challenge is determining at which location(s) in the supply chain—from the field to the checkout conveyor—a needle could be inserted into a product. Ideally, unwanted items would be found early in the process during incoming inspection.
Metal slivers, needles and wires are challenging to find with conventional inspection practices because of their variable size, thin shape, material composition, numerous possible orientations in a package and their light density. Luckily there are Multiscan, multi-frequency, industrial food metal detectors that can provide the highest probability of finding ferrous, non-ferrous, and stainless steel metal contaminants.
Food metal detectors that are equipped with Multiscan, multi-frequency, technology enable operators to pick a set of up to five frequencies, from 50 kHz to 1000 kHz. The technology then scans through each frequency at a very rapid rate. Running five frequencies helps make the machine close to ideal for detecting any type of metal you might encounter. Sensitivity is optimized, as you can choose to run the optimal frequency for each type of metal of concern. The result is that the probability of detection goes up exponentially and escapes are reduced.
The challenge with industrial food metal detectors is that they are normally found on the processing line, not in the supermarket. We anticipate that because of such tampering, the industry might consider changed or innovative new package types such as the use of tamper-proof seals in an attempt to better control the chain of custody. But at least with the latest food safety inspection technology, food processors can be confident that the products leaving their facility are free of metal contaminants.
Food X-ray inspection is another option for inspecting produce. It is based on a density measurement system, so some nonmetallic contaminants can be detected in certain situations. The X-ray beams are passed through the product and an image is collected on a detector.
In general, items that float in water are not detectable by X-ray systems, such as wood, hair, insects, most plastics and rubber. Interestingly, aluminum is often not detected because its density is low, yet it is quite reactive in a metal detector and often detected by such a machine. In terms of inspecting strawberries, however, an X-ray machine could miss thin, flat metal slivers, needles and wires if they lack enough density to be seen through the product when lying flat versus standing upright and vertical to the X-ray beam. In that case the diameter of the metal must be large enough to cover the majority of a diode in order to be detected.
Factors to consider when evaluating metal detectors are that all metals react differently, external noise (from large motors, vibration & RF interference) can negatively impact detection capabilities, the size of the metal detector limits the detection capability, and knowing there is no single best frequency for detection of a specific metal.
We tested both food X-ray inspection systems and food metal detectors to see which solution was best for finding small metal contaminants, like needles, in strawberries. We also moved the metal and tested at different orientations and placement of the metal. Tests involving 16 oz. clamshell containers of fresh strawberries proved that smaller sizes of standard metal spheres, needles and wires can be detected by the X-ray system. Here is a test image showing detection of wire and needles by an X-ray inspection system: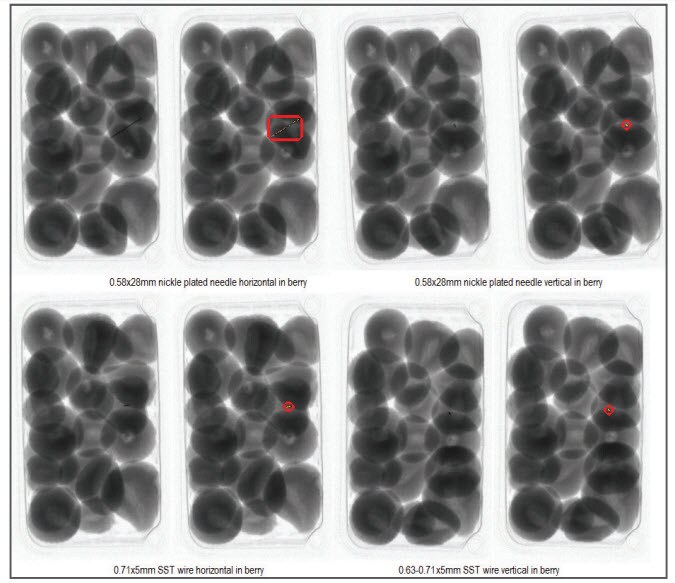 Different metals were tested in many orientations (vertically, horizontally in direction of flow, horizontally perpendicular to flow and at angles) to ensure successful detection. Advanced metal detectors that utilize multiscan, multi-frequency, technology were able to detect the sewing needle in all orientations. However, be aware that metal detectors may produce different results depending on size and the reaction within the electromagnetic field.
Even with a better understanding of each technology, one still may not know which technology to select. Yet either metal detector or X-ray inspection is a prudent investment versus no inspection technology.
Our recommendation for metal detection is an advanced metal detector with multiscan, multi-frequency, technology. Typically these systems last 10-20 years depending on the environment. For X-ray inspection systems, an entry-level system built specifically for retail packages is recommended. However, these systems tend to last approximately 5-8 years.
Another option is bulk inspection of the raw fruit directly from the field using either a metal detector or a bulk X-ray inspection system. Running fresh fruit in a single layer through a smaller metal detector aperture will increase the detection capabilities because the product will be closer to the coils. Inspection with an X-ray system will also be improved because the product will appear more uniform in the image, making detection of foreign materials easier.
Want to know more about the testing of metal detection technology and x-ray inspection of strawberries, read the white paper: Considerations for detecting needles and wire in food products for better food safety