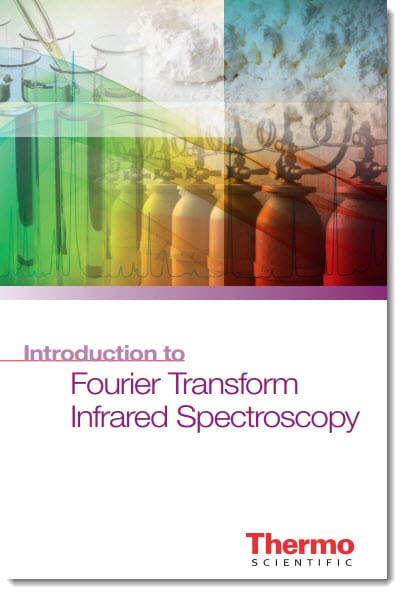 Plastics manufacturers routinely face a variety of product lifecycle challenges, including analyzing failed parts to determine the root cause and corrective actions. FTIR spectroscopy is a fundamental analytical tool across all phases of the plastic and polymer product development lifecycle, including quality control, competitive reverse engineering and problem solving. These capabilities arise because FTIR provides quick and definitive identification of compounded plastics, blends, fillers, paints, rubbers, coatings, resins, adhesives and contaminants.
What is FTIR?
FTIR stands for Fourier transform infrared, the preferred method of infrared spectroscopy. When IR radiation passes through a sample, some radiation is absorbed by the sample and some passes through (is transmitted). The spectrum of absorbed light represents a 'fingerprint' of the molecular structure of the sample. The usefulness of infrared spectroscopy arises because different chemical structures (molecules) produce different spectral fingerprints.
How does FTIR work?
The FTIR uses interferometry to encode information about a material placed in the IR beam. The Fourier transform decodes the signal, resulting in spectra that analysts can use to identify or quantify the material. Patterns in the spectra help identify the sample, since specific structures in molecules exhibit specific IR fingerprints.
Watch the tutorial for a closer look at the heart of the FTIR and a brief examination of why it is so popular as a tool.
What is the best way to use FTIR to analyze plastics?
Certain techniques of sample handling are more effective than others for specific sample types. Some methods are better for plastics, others for liquid precursors or additives.  In order to obtain the best quality spectrum from your sample, it is important to know which handling technique works best for your sample type so you can be confident in your spectral data and results.
or
Visit the FTIR Spectroscopy Academy to learn more about the basics of FTIR and its many applications in plastic and polymer analysis, including:
Material identification and verification
Copolymer and blend assessment
Additive identification and quantification
Contaminant identification—bulk and surface
Deformulation for failure analysis and reverse engineering.