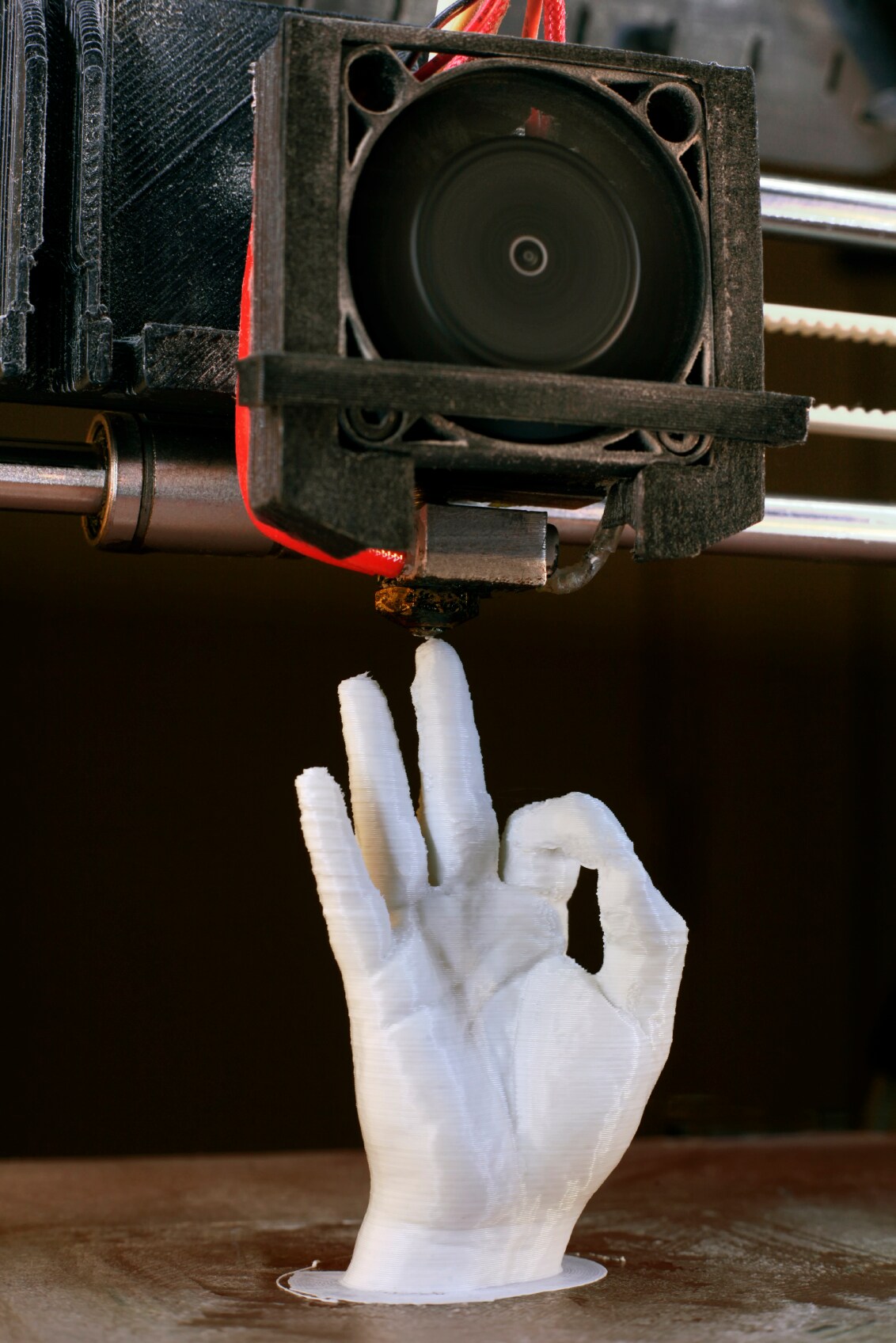 3D printing, also known as additive manufacturing, is a process by which thousands of thinly sliced horizontal cross sections of material are layered in succession to make a solid, three dimensional object. The placement of the layers is determined by a Computer Aided Design (CAD) file which is used to create a 3D model. Several types of technologies can be used to create the layers, depending on the material being printed.
We've heard a lot about 3D printing recently, but the technology started back in the 1980s, when it was called Rapid Prototyping (RP) technology. (Read History of 3D Printing: The Free Beginner's Guide on the 3D Printing Industry website.) Today, 3D printing materials include food, ceramics, paper, biomaterials, and metal (read the Analyzing Metals post, Welcome the Next Phase in the 3D Printing Craze: Metal). These materials and their unique applications may get a lot of attention, but 3D printing started with plastic, which remains the most widely used material, and prototyping is still the biggest application.
According to 3D Printing Industry, plastics are typically printed using the Fused Deposition Modeling (FDM) process. Nylon, or polyamide, is strong, flexible and durable plastic material that has proved reliable for 3D printing. ABS (acrylonitrile butadiene styrene) is another strong plastic commonly used for 3D printing. PLA (polylactic acid) is a bio-degradable plastic material that has gained traction with 3D printing, although it is not as durable or as flexible as ABS. It can be used in resin format for digital light processing (DLP) /Stereolithography (SL) processes as well as in filament form for the FDM process.
Plastics Take Center Stage in 3-D Printing Surge explains that 3D printing with plastic may be emerging as a threat to traditional manufacturing by enabling on-demand production at the final assembly site rather than from the supplier's manufacturing facility. Plastic is the material of choice for 3D printing because "FDM/FFM is also based on a proven, simple, and highly adaptable manufacturing concept—extrusion. The extrusion material of choice, plastic, is readily available, comparatively inexpensive, well-established in a variety of extrusion processes, and perhaps most importantly, ubiquitous in everyday consumer life." While ABS and PLA remain the most popular materials, companies are also trying to develop their own materials for use with their technology because many thermoplastics aren't inherently compatible with 3-D printing. Read the full Plastics Engineering article.
In the R&D laboratory, a new polymer is created by synthesizing small amounts of polymers or by blending existing raw materials to get the best performance for the final product. A wide range of test methods and tools is required to classify a new polymer and to allow accurate predictions of its future behavior during compounding and production. Learn more about extrusion and compounding equipment and rheometers and their many applications for testing plastic and polymer materials.
To learn more about other technologies used to analyze polymers and plastics, check out the Polymers and Plastics Community.