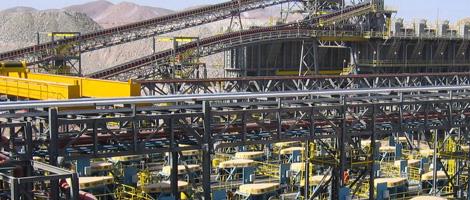 I recently presented a talk at the CIM 2018 Convention in Vancouver, BC.  CIM is one of Canada's premier mining trade shows, attended by over 5,500 people, and featuring hundreds of companies showcasing the latest in mining equipment, tools, technology, services and products. This year's convention focused on thinking differently about challenges, best practices and innovative insights.
But it is the educational aspect of the convention that is the real draw.  There was an impressive line-up of expertly-led workshops, 3 full days of technical presentations (divided in 12 different and innovative themes ranging from finance and management in the mining industry to diversity and inclusion), great networking opportunities, a complete student / young leaders program, and a world-renowned trade show.
I was invited to participate in the CMP, A Vision for the Future Technical Stream  Advanced Technologies session and presented on: "Application of Continuous Elemental Analysis and Sampling Zones for Flotation Plants."
With declining head grades and the need to optimize both operational costs and metallurgical performance, reliance on high quality composite slurry samplers and on-line elemental analyzers has become a renewed point of focus in flotation operations both large and small.
In the talk I discussed how proper selection and application of on-line analysis and slurry sampling zones for flotation plants will deliver a reliable and trustworthy solution for both flotation control and metal accounting, ensuring that the expected ROI for such investments can be realized.
The capacity of these systems can scale from small to the very largest flows in today's mega-scale concentrators while maintaining both accuracy and reliability with minimal maintenance and primary process flow head-loss. Dedicated continuous analysis and sampling stations located on key process streams have gained popularity in recent years because they eliminate the need to maintain complicated and unreliable small bore pumped sample transport systems.
There are several examples of flotation plant designs exploiting the unique advantages of low head-loss integrated sampler and analysis stations along with examples of the latest EDXRF immersion probe analytical performance in base metals beneficiation processes.
In fact, we concluded that with dedicated sample analyzers:
It is possible to successfully combine metallurgical accounting and process control sampling functions in today's large base metal concentrators
Elimination of sample transport systems simplifies engineering, reduces costs and delivers a low OPEX system for the life of the mine
High assay data rates allow rapid detection of process upsets and feedback for process control allowing greater recovery gains
Designing a large flotation plant with more than forty samplers and analyzers without a single sample pump was a breakthrough in the design for flotation plants achieved during the last decade
If you weren't able to make it to the session or even to the show, you can download my presentation and get more details about the challenges, solutions, methodologies, and examples.
Download the Presentation: Application of Continuous Elemental Analysis and Sampling Zones for Flotation Plants