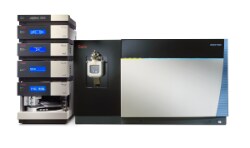 Post-translational modification (PTM) of proteins with glycans forms glycoproteins. Analysis of glycans and glycoproteins is rising in biological significance for drug development, cancer research, stem cell research and development of biofuels. This is because glycans and glycoproteins are involved in biological processes ranging from cellular recognition and regulation to cellular communication, gene expression, and cellular immunity, growth and development. Consequently, glycoprotein therapeutics are beginning to flourish on the market; however, with this comes additional pressure from the FDA and the European Medicines Agency to demonstrate the capacity to monitor, measure and control these types of therapeutics. The types of analyses required include identification of the carbohydrates present, along with their quantities and their sites of action. The Orbitrap Fusion Tribrid mass spectrometer (Thermo Scientific) is a novel system offering the unique potential to improve efficiency and capabilities in glycomics and glycoproteomics.
Glycan Analysis Using the Thermo Scientific Orbitrap Fusion Tribrid Mass Spectrometer
One key mass spectrometry (MS) requirement for successful glycan analysis is the ability to generate useful fragment ions to determine the structure of the sugar sequences. In fact, glycan analysis requires fragmentation of the glycan backbone, which means that the mass spectrometer must be able to perform maximal backbone cleavage. The Orbitrap Fusion Tribrid mass spectrometer possesses multiple fragment techniques: collision induced dissociation (CID), higher-energy collisional dissociation (HCD) and optional electron transfer dissociation (ETD), each with their own unique advantages. For example, in the Orbitrap Fusion Tribrid instrument, HCD fragmentation with high-resolution, accurate-mass (HRAM) fragment ion detection allows for differentiation of near mass fragment ions, which is required for accurate assignment of branching and linkages. In other instances, combinations of permethylation with multistage fragmentation such as CID can give detailed structural glycan information. This approach enables identification of heterogeneity, branching and linkages, along with resolution of isobaric structures otherwise indistinguishable in MS2 spectra.
Additionally, Orbitrap Fusion Tribrid mass spectrometer-based analysis can be parallelized with operation of the mass selecting quadrupole, the IRM (used for both accumulating ions and for HCD fragmentation) and the ion trap. This allows for maximal concurrent ion manipulations and mass analyses, increasing both the scan rates and duty cycle of the instrument.
Glycoproteomics Using the Thermo Scientific Orbitrap Fusion Tribrid Mass Spectrometer
Proteomics has benefited greatly from collisional activated dissociation (CAD) fragmentation; however, this is not an ideal system for glycopeptides because of the types of cleavages required for sequencing. An alternate method whereby researchers sequence the backbone and identify glycosylation sites has been useful, but does not provide information about the glycan structure. The Orbitrap Fusion Tribrid instrument's multiple fragmentation techniques enable comprehensive characterization of intact glycopeptides. Two fragmentation techniques, electron capture dissociation (ECD) and electron transfer dissociation (ETD), are ideally suited for glycopeptide analyses due to their nonergodic type of dissociation. What's more, the Orbitrap Fusion Tribrid mass spectrometer acquires HRAM HCD spectra in a data-dependent fashion by identifying glycan oxonium ions on the fly in the HCD spectra, triggering ETD spectra on the glycopeptide precursors only.
Additionally, the Orbitrap Fusion Tribrid system also introduces a novel fragmentation referred to as electron-transfer/higher-energy collisional dissociation (EThcD). EThcD data provide more complete fragmentation of unmodified and phosphorylated peptides than HCD or ETD alone, increasing confidence in the localization of phosphorylation sites. EThcD also appears especially advantageous for N-linked glycopeptides, enabling better sequence coverage and glycosylation site localization.
Overall, the Orbitrap Fusion Tribrid mass spectrometer contains new functionality allowing for increased scan rate, full flexibility of CID, HCD, ETD and EThcD dissociations at any stage of MS analysis, ultra-high-field Orbitrap detection with advanced signal processing, front-end compact and robust ETD source and dedicated internal mass calibration. The end result is improved performance in glycan and glycoproteomics experiments.
Post Author: Miriam Pollak. Miriam specialised in neuroscience as an undergraduate but traded in lab work for a post graduate degree in science communication.
She has since had a career that has spanned science communication, science education and communications management.
However, Miriam has found her bliss balancing her love of writing and disseminating medical research with managing a multimillion dollar research budget for a childhood cancer charity in Australia.
Oh, and because she's a sucker for punishment… she's just started a Masters in Human Nutrition…